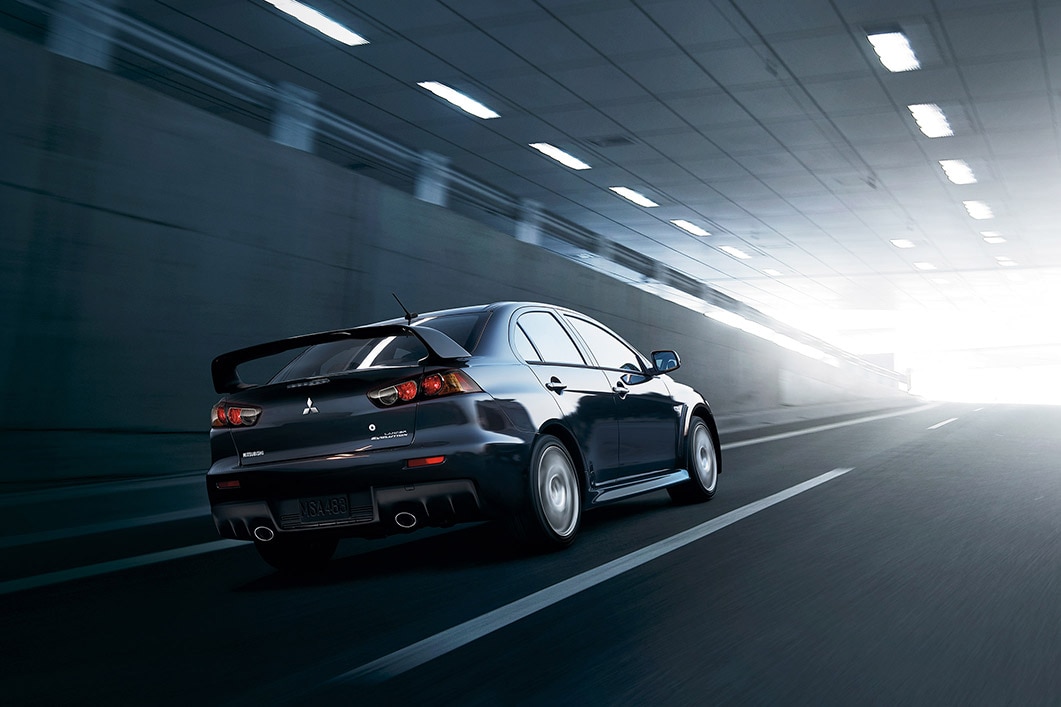 The reviews are in on the all new 2014 Mitsubishi Lancer Evolution, 2014 Mitsubishi Outlander Sport, and 2014 Mitsubishi Outlander.
Lancer Evolution review by Scott Sturgis (Pittsburgh Post Gazette 2/6/2014 page D1)
http://www.post-gazette.com/business/auto/2014/02/06/Driver-s-Seat-Lancer-Evolution-fun-has-drawbacks/stories/201402060170
"The 291-horsepower turbocharged 2.0-liter MIVEC four-cylinder engine is not like any four-cylinder you may have experienced in the past. In Sport mode, it plasters occupants right into their seats. The speedometer can quickly arrive at three digits if the driver is not paying attention. Kids, don't try this at home."
"It's more than just a fast machine. The car seems to ride on rails. It has no roll at all. The Lancer takes the Honda Civic Si approach to cornering and makes tight turns a blast. Super All-Wheel Control and active yaw control allow you to take curves as fast as your nerves will allow. It seems nearly impossible to cause the Lancer Evolution to lose control or skid. I cornered through an intersection at about 35 mph and the driver was probably the weakest link in this move."
"As usual, the Rockford Fosgate sound system is excellent. It's fairly user-friendly as well, as buttons outside the screen control mode and zoom the map, and dials control volume and tuning."
Lancer Evolution review by Steve Cypher (LotPro 1/31/2014 online)
http://www.lotpro.com/blog/2014/01/31/2014-mitsubishi-lancer-evolution-gsr-driving-impressions/
"Pros: Handling and performance; Recaro front seats; Sophisticated all wheel drive system"
"New for 2014 and bringing the infotainment system into the 21st century is a new and very user friendly 6.1-inch touchscreen display audio system featuring both HD Radio and SiriusXM satellite radio."
"Driver ergonomics...are spot on. All controls are within easy reach while the stitched, leather-wrapped steering wheel features controls for the cruise control as well as redundant controls for the entertainment system and voice-activated Bluetooth phone. Behind it resides a pair of magnesium paddle shifters."
"When the pavement is smooth, when the road rises, falls and twists and turns every which way, there are few places I'd rather be than in the driver's seat of an Evo. The all-wheel-drive with its plethora of stability and traction control systems will instill confidence in just about any driver - performing maneuvers that would be nearly impossible in a normal sedan seem almost effortless."
"You want power? Here it is in abundance - and not just horsepower, mind you, but also a seemingly bottomless pit of torque. The steering is direct and perfectly weighted while the short-throw shifter and smooth clutch work in perfect harmony with the suspension and drivetrain to truly maximize the EVO's potential."
Outlander Sport
review by Bengt Halvorson (Car Connection 1/30/2014 online)
http://www.thecarconnection.com/overview/mitsubishi_outlander-sport_2014
"So-called compact crossovers such as the Honda CR-V or Subaru Forester have been creeping up in size; and that's made room for this kind of vehicle, that's a step larger than subcompact hatches yet a step taller than compact hatchbacks like the Ford Focus or Hyundai Elantra. Compared to the Outlander, the RAV4, and that entire set of 'generous' compact crossovers, the Outlander Sport looks and drives quite differently than those other models, too, shying away from sport-utility cues and instead taking a sportier tack-looking (and feeling) more like a tall hatch."
"Mitsubishi is clearly making an effort to spruce up the look and feel somewhat; last year it introduced a new cloth upholstery, and this year there's a new black-leather seating option in the SE Touring Package."
"Talking about cornering: the Mitsubishi Outlander Sport drives with a light, responsive feel-more like a compact sedan than a larger crossover-and this is a good pick for those who want compactness and maneuverability, not all-out ruggedness."
"This is a vehicle that tends to feel roomier inside than you might expect, considering its very compact exterior. Front seats feel fairly snug but supportive, and in back there's real space for two adults or three kids. And with seat height just right for what many aging shoppers (or busy moms) seek-a little higher than a sedan, yet lower than a larger SUV-you get get in by merely sitting and turning, or load children in without straining your back."
"For safety, the Outlander Sport has been one of the better performers in this class-and among other vehicles its size and weight it has one of the top ratings in the tough new small overlap frontal test. Safety ratings for the Outlander Sport have otherwise been good, and it has all the features you'd expect in a vehicle that works for small families."
"With a base price of around $20k and a fully loaded one barely reaching into the upper twenties, pricing and value are some of the Outlander Sport's main selling points."
Outlander
review by Imran Malik (Wheels 1/24/2014 online)
http://wheels.ae/drives/first-drives/mitsubishi-outlander-leave-it-out-1.1281480
"The third-generation Outlander is now by far one of the best CUVs in the market and a capable off-roader to boot."
"Having spent a few days with the new third-generation Mitsubishi, I was completely bowled over by the handsome four-wheel-drive seven-seater. Sometimes the underdog can land a knockout blow. This is definitely one of those times."
"Outlander has many things going for it, starting with a smartened-up exterior. Now wearing all-new sheet metal compared to the predecessor, which has helped it to shed 90kg, it's now far curvier than before and more aerodynamic too."
"It's equally impressive in the overhauled and stylish cabin. Aside from the fact that there is seating for seven, it also features soft-touch materials on the dash, faux wood trim, which actually doesn't look bad at all, a classy high-gloss, piano-black centre console panel and fine fit and finish."
"The leather seats are very comfortable and supportive and the front chairs can be heated. Very handy at this time of year. You sit high up in the Outlander and as a result have a commanding view of the road below. There's lots of leg- and headroom, while outward visibility is very good too - there are no worrying blind spots and, even though the B-pillars are quite thick, they don't seem to block the view over your shoulders."
"The second and third rows fold flat to create a whopping 1,784 litres of cargo space."
"The whizbangery on this GLS trim includes cruise control, dual-zone climate control, keyless entry, Bluetooth, reversing camera, and a superb touch-based 710-watt Rockford Fosgate sound system with nine speakers and a built-in sub-woofer. It sounds fabulous."
"Power comes from a smooth 3.0-litre V6 that is mated to a six-speed automatic with paddle shifters on the steering. It produces a decent 224bhp at 6,250rpm, comes standard with all-wheel drive and has a towing capacity of up to 1,587kg. That's a lot of grocery bags."
"Passing power is more than adequate; it accelerates with purpose while engine noise is at a premium, thanks to extensive use of high-grade sound insulation material to keep the cabin quiet."
"The electrically-assisted rack and pinion power steering is nicely weighted and offers good feedback."
"Go crazy and it is a hoot when you fancy a bit of light off-roading; its sophisticated all-wheel-drive system and front strut, rear multilink suspension means it'll gobble up medium-sized dunes and rough roads without a fuss and remain totally composed throughout. Very impressive indeed."
"This Mitsubishi will be losing that underdog tag pretty soon."
Gary Lang Mitsubishi
has a terrific selection of new Mitsubishi's in stock. If we don't have exactly what you are looking for, we can always find it for you. Contact a Mitsubishi Specialist today for more information or to schedule a test drive.